Captain George Ellis - 4th Light Dragoons.
Regt. No. 200, 203
(Updated 23 May 2009)
---
George Ellis was distinctive in his time, in that he rose from humble origins as a private of the regiment, through the ranks, to be commissioned without purchase and was promoted up to Captain before his untimely death.
He is also of great interest to me as he was my great-great-grandfather.
---

Beginnings ?
George was probably born around 1806 (possibly in the Birmingham area, although the IGI offers two plausible possibilities from All Cannings in Wiltshire) and it is thought that he came from a relatively poor family.
The wedding certificate for George's second marriage (RCB) states that his father was Thomas, however this is in some doubt.
England & India (1824-1841).
George Ellis was recruited on 3rd January 1824 "from Birmingham" (MR). It is likely that he was about 18 years of age.
For the entire year of 1825 he is listed in the muster rolls as being on recruitment service at Birmingham, joining the regiment (presumably at the Maidstone Depot) on 27th January 1826. After a few months at the depot, he was ordered to "March to Embark" on 9th June 1826 arriving in Bombay on 28th October 1826 where he remained for 2 months before joining Capt. Byrne's troop at Kirkee.
Kirkee was a fortunate posting for George, because around this time, the regiment was based at Kaira in the west of India and were suffering horrendous loss of life through disease. Luckily for George, it was decided to move the regiment south to Kirkee, near Poona(h) where living conditions were relatively better. (4H)
George served as Private, mainly in Capt. Edward Byrnes' troop (MR) , until 14th July 1831 when George was promoted to Corporal. A further promotion was awarded on the 20th March 1834 when George was made up to Sergeant (MR).
First marriage (1836).
It was at Kirkee that George married Mary Ann Bradley on the 4th October 1836. (OIOC).
Three children were born to the couple while they were in India (OIOC) ; Elizabeth Margaret on 27th February 1838, Juliana on 29th September 1839 and on 8th May 1841 a son, Thomas William, was born. Sadly, Juliana died in 1840 (OIOC).
On the 8th September 1837 George was promoted once more, to Troop Sergeant Major (MR).
The 1st Afghan War (1838/40).
This period saw a detachment of two squadrons from the 4th Light Dragoons accompanying the Bombay column of men sent to assist in the Afghanistan Campaign (4H). Despite claims in his obituary that George took part in this campaign, muster rolls for 1838 to 1840 show that he was not involved and remained at Kirkee barracks.
Life was fairly uneventful for George during his tour od duty in India and the muster rolls show only that he was 'on field service' from September 1826 to December 1826 and 26th October 1840 to 12th November.
The 4th Light Dragoons' tour of duty ended in 1841 (4H , MR) and George returned to England on the the ship "Repulse" on 12th November 1841. The voyage was long (nearly 4 months!) and largely uneventful but saw 14 deaths (12 men, one soldier's wife and one child), and one birth (4H). Accompanying the Repulse was the "Mary". On the 28th March 1842 (MR) George disemarbarked from the Repulse, at Gravesend (4H).
On it's return from India, the regiment were initially barracked at Canterbury (MR , 4H) but in October 1842, George was amongst troops detached to Chichester in Sussex for 6 months.
The Rebecca Riots (1843).
In 1843, South Wales saw civil unrest when locals rebelled against the excessive application of toll gates erected by Trusts to replace parish funding of the road maintenance. Growing numbers of Toll gates and the toll collectors' houses were being attacked and detroyed by the "Rebeccaites"; gangs of locals disguised as "Rebecca and her daughters".
As part of Major Parlby's troop, George had already marched to Cardiff (4H) in April 1843.
By June, riots and unrest had grown to a point where the Home Secretary ordered the Dragoons into Carmarethen - Parlby's troop arrived in time to disperse a parade through Carmarthen that had escalated to a riot which was attacking the town's workhouse. On Monday 19th June 1843, the troop were approaching Carmathen when a messenger from the town met them warning of thousands of insurrectionists! The troop galloped the remaining fourteen miles in just over an hour and set about crashing into the mob and scattering them (ATBR).
The Dragoons were called upon to patrol the surrounding countryside and, with support from an increasing number of forces from other regiments, were required to spend the next six months in pursuit of, but never quite catching, the Rebeccaites in the act! (ATBR)
It has been stated (ATBR) that George's family were with him in Carmarthen and that Mary Ann fell under alcoholic influence due to the pressures of living in small single room of an inn with her children...! When the tiem came for George to collect together his belongings, it becamse apparent that his wife had traded much of them for alcohol... In this source George is referred to as 'a hard-bitten disciplinarian' - It would be interesting to know the source of that description!
With the problems in Wales settled, George and the regiment went to Trowbridge barracks in April 1844 before moving on to their headquarters in Ipswich where they stayed for a year until April 1845. (MR). His obituary reports that George spent part of his earlier career at Trowbridge (Obit).
In October 1845 George moved to Hounslow, (MR) and on the 3rd March 1846 he was promoted to Regimental Sergeant-Major (MR).
Ireland (1846-1852).
After spending a few months in Manchester, George was sent with the regiment to Ireland in September 1846. They were based in Dublin and later Athlone. (4H , MR).
On the 7th May 1847, George obtained his commission, without purchase (WO33) with the 15th Light Dragoons and is not listed on muster rolls for the 4th Light Dragoons again until 5th May 1848. He appears in Harts Army List 1848 (which relates to 1847) with the 15th Dragoons.
Where he was based while officially with the 15th Lt Drs is unknown because the Muster Rolls for that regiment in that year are not available at the Public Record Office (PRO index is inaccurate!). However the 15th Lt Drs muster roll for April 48+ remarks that George is "doing service with HM 4th Lt Drs" from April to August 1848. A remark for August states that he has been ""appointed to the 4th Lt Drs 5 May 1848, notification received 10th Aug 1848".(MR). The Army list for 1847 shows that the 15th Hussars were based in Bangalore, India but the muster rolls quoted above relate to Maidstone. In all likelihood, George did not actually serve with the 15th Lt Drs, but took advantage of a vacancy of rank in that regiment, and continued serving with his own regiment.
On his return to the 4th Light Dragoons, George was appointed as the regiment's Adjutant. A letter to the Commander-in-chief's office (WO33) in 1847 recommended commission without purchase, and his Cornetcy was granted on 7th May 1847.
He is listed in Hart's Army list from 1849 to 1857.
Second marriage (1848).
On the 11th July 1848 George remarried at the parish church in Great Connell, Ireland to Jane Bright (WO25 , RCB). Further investigation has identified that he married Jane at St Patrick's church in the locale of Morristown Billar adjacent to Newbridge (NLSL); it is not currently known what became of his first wife, Mary Ann, nor the fate of his family up until now (other than his son Thomas William). It is possible that Jane's father (Thomas) was connected to the Army as her address "prior to marriage" was given as "Newbridge Barracks". In fact it is known that Jane was originally from Gloucester, and there is convincing evidence that Jane was the sister of Hannah Bright who travelled to India in the 1820's and married Thomas Tarleton of the regiment. Tarleton witnessed George and Jane's marriage.
George continued to serve in Ireland under the 4th Light Dragoons and was rewarded with promotion to Lieutenant on 8th May 1851.(HLB).
Home again (1853-1854).
In 1853 the regiment returned to England and George spent time in Ipswich, Chobham camp and Canterbury.
The Crimea (Summer 1854-Spring 1855).
Muster rolls record that George boarded the Simla on the 18th July 1854 at Plymouth (4H) bound for Varna and the Crimean War !
The voyage lasted until the 13th August 1854, when the Simla arrived at Varna (on the western shore of the Black Sea, in today's Bulgaria) and George must have disembarked on the 14th (4H) although the muster rolls state he was only on board ship until the 4th August !
Preparations meant that the regiment was held at Varna until September (4H) where many men succumbed to cholera, but officers of the 4th Dragoons were spared and only 5 men of the regiment died of the disease (4H).
George is recorded as boarding ship once more on the 4th September 1854 (MR) bound for Kalamita Bay, near the river Alma and north of Balaclava in the Crimea. Unsettled seas meant that the regiment were delayed for four days and could not disembark until the 18th September 1854. (4H , MR). However this date appears to be suspect, as George is mentioned in Gen. Lord George Paget's diary of 1854 thus : "Sept. 18. -- Still here, but we march tomorrow at daybreak, our tents lying on the beach waiting to be shipped off. I have bought a pony for £2 10s., which will carry my "tente d'abri," [shelter] and give Ellis (my adjutant) the benefit of it, he being invaluable to me, and, poor fellow, very grateful for it" (VW)
It is assumed that George was present at the battle of Alma (20th September) but Honour the Light Brigade states that George was reported sick to Scutari [hospital] (today a district in Istanbul) on the 7th October 1854. The muster rolls do not corroborate this and can only confirm that he was "at Scutari" from November 1854. The bombardment of Sevastopol commenced on the 17th October and so it can be disputed whether George was present for this or was already at Scutari.
Muster rolls do not suggest that George ever returned to active duty with the regiment. Certainly there are no suggestions that George was on active service on the fateful 25th October - the date of the infamous "Charge of the Light Brigade". Indeed, "4th Hussar" states that "..Lieutenant G. Ellis and Cornet R. M. Gore-Booth were absent sick".
His Captaincy was purchased on the 8th December 1854 (HLB , 4H) presumably while he was still at Scutari and so he ceased to be Adjutant.
Finally he was invalided back to England on 31st March 1855 (HLB).
Florence Nightingale arrived at Scutari on 4th November 1854 and stayed until August 1856 so one can only guess whether George benefited from this nurse's ministrations...
The End...(1855-1856)
Muster rolls for 1855 do not list George in the main part, but do mention that his two horses continued to be foraged at public expense. Nevertheless, on 18th May 1855 he was amongst the men presented with the Crimean War Medal by Queen Victoria at Horse Guards Parade (HLB). It is understood (from information obtained from a medal collector/dealer) that he was also awarded the MSM at some stage.
The 4th Light Dragoons left the Crimea on the 4th and 5th May 1856, and 1856 Muster Rolls report that George rejoined "from Depot 1st June". It is understood that the depot was Brighton(Army List, 4H, where the regiment was based for a year. Muster rolls, on the other hand, suggest that the regiment were also at Trowbridge in the summer of 1856.
On the 5th October 1856, at Trowbridge Barracks (GRO), Captain George Ellis died following a bout of meningitis at the age of 50 years (GRO). He may have been a well-respected member of the local community, but more likely because he was reputed to be the first officer of the Crimean campaign to have been buried at Trowbridge, as the Trowbridge Advertiser in October and November gave an extensive obituary of him, and suggested that his passing be honoured by a plaque or window in the Trinity church where he was buried - the first officer buried in the northern grounds of the barracks' church. His fellow officers were reported in the paper as intending to "raise a handsome tomb" to his memory out of their own money.
Today, however, no such honour remains.
The Trowbridge Advertiser for 18th October 1856,contains notice of an Auction of "Property of an Officer, deceased, of the 4th Queen's Own Light Dragoons..." This is assumed to be George's, and if so names his two chargers as "Emperor" and "Windermere".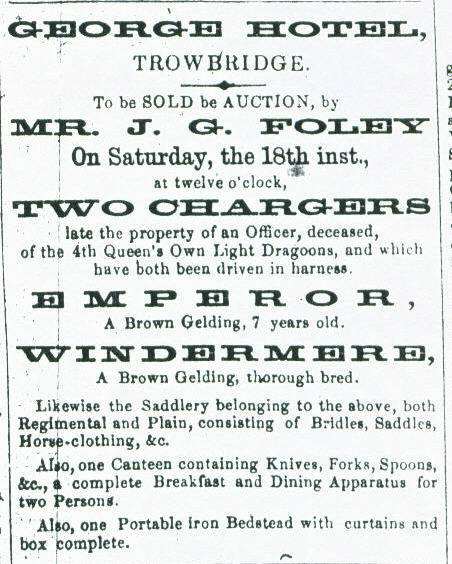 The following information was obtained via ministers and representatives of Trowbridge Church :-
In 1913 the gravestones of the Trinity Church were logged and Capt. Ellis' grave was noted. The gravestone was laying flat and subsequently must have became eroded so much that in the 1970's it was illegible and so was removed and destroyed. It is said that the gravestone recorded the Crimean War battles in which George served.
An iron rail around the grave was similarly lost over the years - presumed to have been taken and melted down during the second World War.
And the family..?
The fate of George's family is not fully known.
Jane has been found living in Trowbridge in 1861 - but not in later census returns. After 1861 (PMG11) Jane moved to Leckhampton (where a sister was living) and later moved to Quebec, where she died in 1874.
Thomas William does not surface in records until the 1861 census where he is lodging as a 'mariner' in a Liverpool hotel, and again in 1873, in Canada where he attained his Master's Certificate with the Merchant navy. He married Hannah Dodd in Liverpool, 1881 and I am descended from one of his eight children. Thomas William died in 1899.
Elizabeth Margaret's future has not been followed; it is presumed that she married at some point so it is difficult to locate her.
---
Sources
(MR)

Muster rolls for the 4th Light Dragoons at the PRO (WO12/636 - WO12/661 : 1824-1856)

(PMG11)

Officers' Widows' Pensions (PMG11/59-69 : 1855-1869)

(OIOC)

Parish records for Kirkee - Oriental & India Office Collection ; British Library

(NLSL)

Newbridge Local Studies Library, Newbridge, Kildare
Regimental documents for 4th Dragoons in

(WO25)

and

(WO33)

at the PRO

(GRO)

Death certificate for George

(ATBR)

'And They Blessed Rebecca - an account of the Welsh Toll-gate Riots 1839-1844'; by Pat Molloy, Gomer Press

(Obit)

Obituary and 'letters to the editor' ; Trowbridge Advertiser Oct/Nov 1856

(HLB)

"Honour the Light Brigade" by Lummis & Wynn

(4H)

"4th Hussar" by D.S. Daniell

(RCB)

"Representative Church Body Library", Dublin
---
Acknowledgments.
I extend my thanks to the Holy Trinity Church, Trowbridge for their kind help in my researches.
I also wish to thank and acknowledge the late Edward James Boys for his helpful encouragement and contributions.
---
Back to Homepage

Back to 4th Light Dragoons Page

Top of Page